Director
ACA, MCom. (Management), BCom. (Accountancy and Audit), GCD.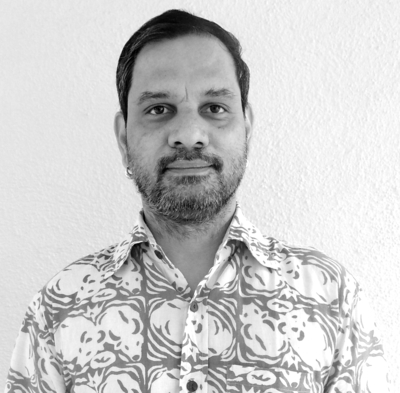 Gurumurthy Kasinathan (Guru) is Founder and Director of IT for Change, a NGO based in Bangalore India. He has over 28 years of experience in the development, corporate and government sectors. Guru leads ITfC work in research, demonstration projects, systemic teacher education reform and policy advocacy, in the area of education. His areas of expertise include open educational resources, ICT integration in education and school leadership. He has designed and conducted evaluation of ICT programs in school and teacher education. He has designed and implemented state-wide teacher education programs, adopting a 'professional learning community' approach.
He has led research to study ICT programs in schools, in Kerala and Karnataka states and the work of the Regional Resource Centre of the University School Resource Network of Delhi University. He is currently leading an action research studying OER-based participatory teacher professional development models, as a part of the Research on OER for Development (ROER4D) global program.
He leads ITfC demonstration programs in schools, using ICTs to pilot new models of teacher education, in Karnataka, Telangana, Assam and Andhra Pradesh. These programmes are designed and implemented at school, block as well as state levels. He was part of the state-wide 'Subject Teacher Forum' program in Karnataka, which has built professional learning communities of over 20,000 mathematics, science, social science and language teachers, and is perhaps the largest virtual network of its kind in the world. These teachers have collaborated to use digital tools and methods to create OER and publish these on the 'KOER' (Karnataka Open Educational Resources) MediaWiki portal, pioneering a participatory model for curricular resource design and development. He is part of the team working on the "Teachers Communities of Learning" (TCOL) program, which has established professional learning communities of government high school teachers in Bengaluru South 3 block.
He is currently part of a program to design and develop ICT student text books and teacher hand books for the Telangana ICT@Schools program and to design and implement the Telangana Repository of Open Educational Resources. He is the convenor for the "ICT Mediation in teaching-learning" paper in the Diploma in Elementary Education program of DSERT, Karnataka.
He has worked on the role of proactive disclosure on the Internet in the context of the Right to Information in India. He leads programs on the adoption and promotion of public software (www.Public-Software.in) in the Indian public sector. He has been a member of committees in the area of teacher education at national and state (Karnataka) levels, and also a member of networks of educationists and of FOSS communities in India.
Gurumurthy is visiting faculty at the Tata Institute for Social Sciences, Hyderabad (www.TISS.Edu), where he teaches "Education Leadership and Management" (ELM) and "ICT and Education" in their post graduate program in Elementary Education. He is founder of the "Centre for Leadership and Management in Public Services" (www.C-LAMPS.in), a NGO formed to work on issues of individual and institutional capacity building in government and non governmental organizations.
He was earlier a consultant at the "Azim Premji Foundation" (www.AzimPremjiFoundation.org), a NGO working in elementary education in India and a member of the "Policy Planning Unit" (www.KarnatakaEducation.org.in), a collaboration of the Azim Premji Foundation, with the education department of Goverment of Karnataka where he worked on areas of education policy, technology and leadership.
Gurumurthy was earlier with the Management Consulting and IT business sectors for over 15 years. He worked with i-flex solutions (now Oracle Financial Services) a company selling banking products and services, where he was involved with their marketing, delivery, implementation, customer support and customer relationship management, software processes maturity activities. Prior that he was at A.F.Ferguson & Co. management consultancy services working on consulting assignments relating to the design and implementation of systems in a variety of industries and areas.
Guru has written articles and papers in the areas of OER, professional learning communities, ICT and Education, Education Leadership and Management.
Twitter -http://twitter.com/gurukasi
Facebook -http://www.facebook.com/gurumurthy.kasinathan
Tags: