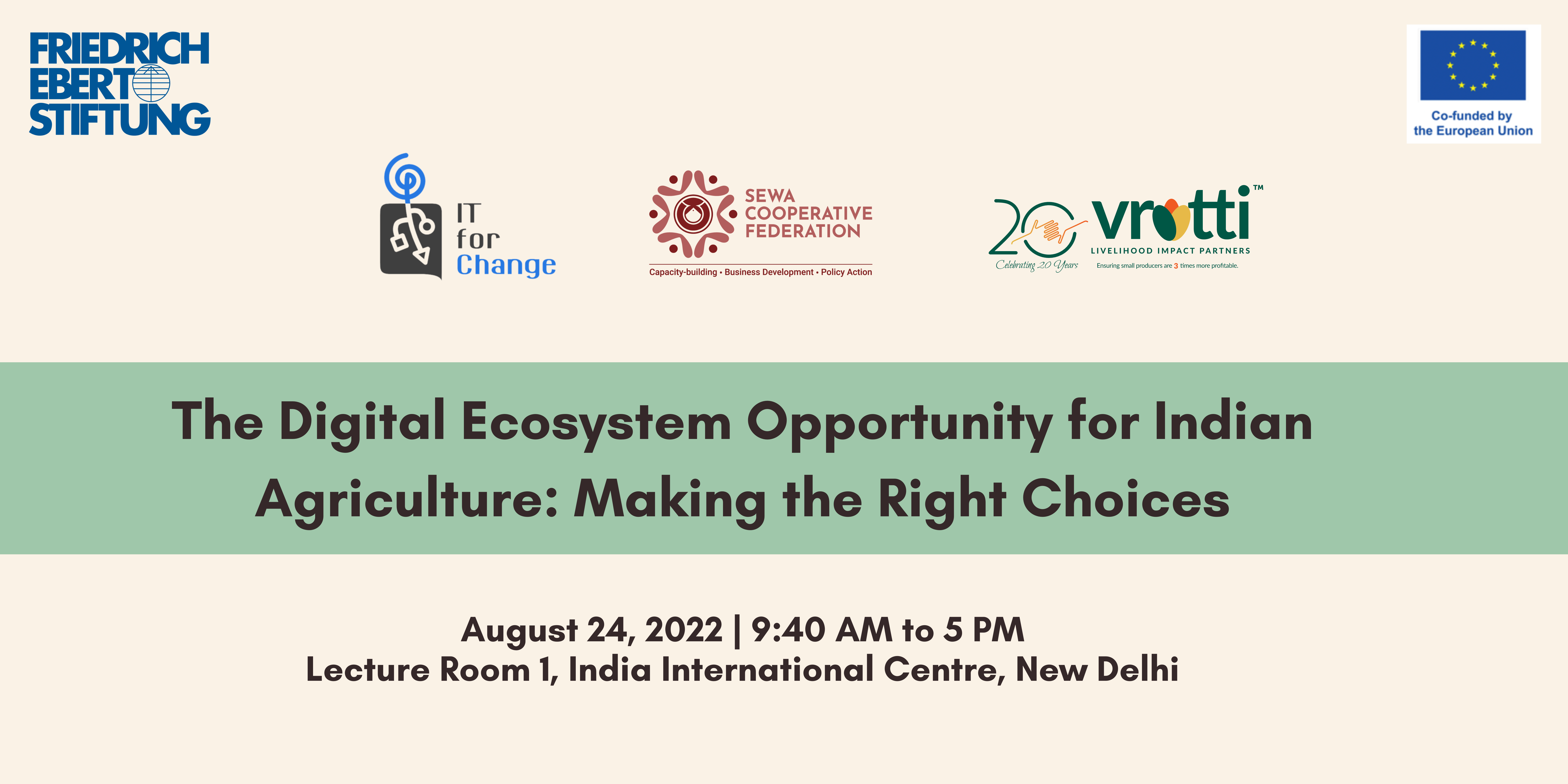 IT for Change is co-organizing a workshop on The Digital Ecosystem Opportunity for Indian Agriculture: Making the Right Choices, with Vrutti, and Sewa Cooperative Federation as part of it's EU funded project, Centering Women in India's Digitalizing Economy on August 24, 2022, at the India International Centre, Delhi.
In recent years, policymakers, agriculturists, research scholars, and a wider community of practitioners have been exploring the role of digital technologies in supporting and strengthening agricultural livelihoods. What is increasingly clear is the need to move from a narrow app-centric approach toward an ecosystem model that accounts for a farmer-centric vision of value creation through digitalization.
The government and government agencies, as well as traditional cooperative organizations, social enterprises, and open-source technologists, have also been exploring and experimenting with various approaches to explore new forms of agricultural economies with the increased role of digital technologies.
In this backdrop, the proposed workshop seeks to examine the following questions through dialogue and discussion:
(1) What are the new opportunities that platform, data, and AI technologies offer for strengthening
agricultural livelihoods and bringing economic empowerment to marginal and small farmers in the Indian context?
(2) What kind of public policy scaffolding in terms of traditional agricultural policy areas and new digital public infrastructure creation is needed for farmer-centric digitalization of agricultural value chains?
(3) What kind of institutional processes and mechanisms can strengthen the current tech policy discourse? For instance, how can the Open Network on Digital Commerce and central/state government agricultural data exchanges, and online agricultural marketplaces ensure better livelihood outcomes for marginal/small farmers?