Apr 2019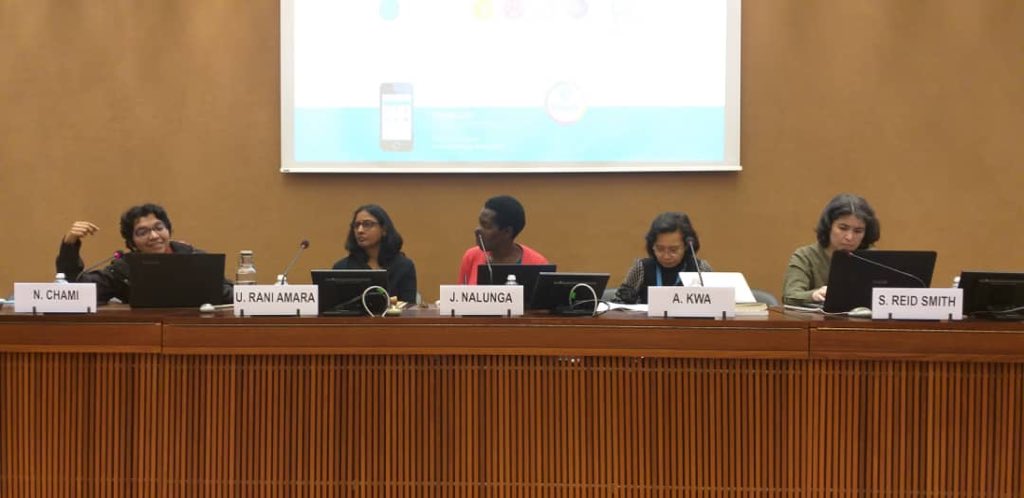 Nandini Chami was a panelist on the 'Towards an empowerment scorecard for women in e-commerce' session during  UNCTAD's eCommerce Week 2019 in Geneva, Switzerland.
The panel deliberated on the following questions:
To what extent has the global digital economy and the current e-commerce regime been successful in furthering women's empowerment and gender equality?
What kind of policy spaces are vital for women's empowerment at the national level? Consequently, what should not be traded away in e-commerce negotiations?
How can we build an initial set of parameters to evaluate e-commerce policy systems for gender inclusiveness?
Organised by
Development Alternatives with Women for a New Era (DAWN)
Speakers
Aileen Kwa, Coordinator, Trade for Development Programme, The South Centre
Nandini Chami, Deputy Director, IT for Change and Researcher, Digital Justice Project of
DAWN and IT for Change
Sanya Reid Smith, Legal Adviser and Senior Researcher, Third World Network
Uma Rani Amara, Senior Economist, ILO
Moderator
Jane Nalunga, Uganda Country Director, Southern and Eastern Africa Trade Information
and Negotiations Institute (SEATINI)
Jane Nalunga from SEATINI welcomed the participants and opened with the main questions of the session: To what extent has the global digital economy and the current e-commerce regime been successful in furthering women's empowerment and gender equality? What needs to shift so that we can realise gender-transformative change on the ground? 
Nandini Chami, representing the Digital Justice project of DAWN and IT for Change, opened the panel discussion with a critical reflection on whether the exuberance around the transformative moment for women's entrepreneurial freedom as having finally arrived with the digital revolution is justified. She spoke about how the terms of inclusion in the digital marketplace are unfair to the majority of women-run MSMEs in the global South: steep commission/brokerage charges of platforms, predatory pricing/ discounting, algorithmic gaming of product search results and so on. Through specific illustrations of the discriminatory workings of Amazon's 'Buy Box' algorithm, Trip Advisor's sudden discount announcements on women-run home stays in Indonesia, and on-ground narratives of women street vendors in India, she demonstrated how the digital marketplace is skewed against women-led businesses that tend to be small size, with limited growth potential and very little capacity to bear inventory and customer service overheads. She then went on to reflect on how the platform business model was not just restructuring retail commerce in exclusionary ways. Rather, the enclosure and expropriation of data and digital intelligence in the ubiquitous platformisation of the economy has ramifications for every sector. These trends have exacerbated the concentration of economic value in the hands of a few and reinforced gendered labour hierarchies, as witnessed in the case of the agriculture sector. In conclusion, Nandini deliberated on the types of domestic policy actions that can turn the course of the platform economy and make it work for women's empowerment and gender justice. She emphasised the need to redefine competition law for the platform marketplace, national level investment in digital and data public goods, and creation of interlinkages between digital industrialisation and women's empowerment strategies. The proposed e-commerce rules in trade agreements will thwart this much-needed domestic policy space and this requires urgent attention of policymakers in the global South. 
Uma Rani Amara, Senior Economist, ILO, examined the opportunities and challenges of the digital economy for women engaged in platform-based work. She brought in insights from a 2018 ILO survey on decent work in the online world, covering 3500 workers from 75 countries, working on 5 English-speaking microtask platforms.  Her analysis highlighted  how the traditional gender gap in work participation also extends to the digital paradigm. Only one of every three platform-based workers are women, and in developing countries, this proportion drops further to one out of five. The gender pay gap continues to persist as well. Uma then spoke about how entry into platform-based work may not be a preference exercised by women but the only option available when restrictive gender social norms continue to tie them down  to unpaid care work duties at the household level. In fact, in the 2018 ILO Survey, 13% of women respondents said that they could only work from home because of care responsibilities. This proportion was only 5% amongst men respondents. The unfortunate reality is that the promise of flexi-work does not materialise; instead, it is economic precariousness that most platform workers have to reckon with, alongside oppressive algorithmic management tactics of platforms. The reality of platform work also complicates everyday negotiation of paid and unpaid work for women, as they now end up also doing the unpaid work of searching for the next gig along with managing their current assignments and care work burdens. In the final analysis, new forms of employment enabled by digital technology end up reinforcing women's role in social reproduction in new ways, and also isolating and alienating individual women workers. To conclude, Uma highlighted how local presence and algorithmic transparency/disclosure requirements are vital to protecting the rights and well-being of women platform workers. This should not be compromised by e-commerce/ digital trade proposals. 
Aileen Kwa, Coordinator, Trade for Development Programme, The South Centre, commenced her presentation by highlighting how e-commerce and e-commerce/digital trade rules should not be conflated. It is certainly true that e-commerce holds the possibility of bringing down traditional barriers to women's market participation but the question is: are the new rules that we are proposing for e-commerce building an economic regime that works for all women, especially those in the global South? Aileen then went on to explain how in order to make the digital economy work for women, we need digital trade rules that preserve the policy space of developing countries to build their digital industrialisation pathways and retain the right to determine the pace of market liberalisation. She explained how the proposal for unrestricted cross border data flows put forth by the United States in plurilateral e-commerce negotiations has overturned the foundational assumption at the WTO regarding domestic markets. The default assumption should be that individual states hold the right to determine the extent to which domestic markets are open. But now, the push for free data flows presumes that domestic markets are open and countries cannot impose any requirements on transnational digital corporations for presence/infrastructure/ localisation of data.  To build non-exploitative alternatives that work for their citizens in the platform economy, and to pursue their own domestic growth and development pathways, countries must have the space to put in place measures for the regulation of data for economic value, and assert their data sovereignty. As far as the issue of retaining domestic policy space is concerned, it must be noted that in e-commerce talks, even the seemingly 'soft' issues have far-reaching consequences. For example, e-signature proposals have a TRIMS plus provision. The big semiconductor companies would like to ensure that their hardware can be sold throughout the world; and hence, US/EU/Japan would like to ensure that countries are not allowed to mandate their own authentication standards. It is essential that countries tread carefully so that they don't lose the window of opportunity to design their economies in ways that work for the most marginalised women. 
Sanya Reid Smith, Legal Adviser and Senior Researcher, Third World Network, discussed the specific elements of the e-commerce policy proposals that are likely to hurt the interests of marginalised women in the global South. She opened with a discussion of how the proposals on raising de minimis thresholds and the push for a permanent moratorium on customs duties on electronically transmitted products would significantly erode the fiscal revenue base of developing countries that are in the position of net importers in the digital economy. Considering that the corporate tax systems of these countries are not able to successfully prevent digital corporations from profit shifting through subsidiaries (eg. Uber), a blow against tariffs would end up further hampering revenue streams that are essential for building care-related infrastructure. In this scenario, governments would pull the plug on social security and welfare services, leaving women to shoulder care burdens sans any institutional support. Sanya then went on to discuss how the proposals to ban mandatory disclosure of source code/algorithms would exacerbate discrimination and exclusion in the platform marketplace. Finally, she discussed how MSME associations across developing countries have rejected the e-commerce policy proposals that would take away valuable policy space, which is essential to carving out growth and development pathways. In the words of Ruth Abraham Agbo, National Women's Leader, MSMEs from National Association of Nigerian Traders (NANTS): "We, the over 4 million MSMEs in Nigeria under the National Association of Nigerian Traders (NANTS) fully support and stand by the G90 (of developing countries and least developed countries) proposal which has Special and Differential Treatment provisions that would genuinely help our growth and development. We are totally opposed to the other proposals that are Trojan horse and back doors for rules (e-commerce et al) that would harm our livelihoods and sustenance".